Sean Lennon at The Parish
"I want to play some more music."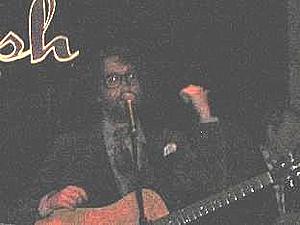 A few months ago I wrote a lengthy missive about how Sean Lennon's new album, Friendly Fire, was awesome. Not perfect, but very, very good. So, when I heard that he was coming to Austin, I was really happy. Then I found out that it was right when I was planning my big trip. I was really pissed. Then I found out that he was going to be at SXSW! Happy again! Then he missed his show. Pissed.
So, since his real show was going to be so close to when I was leaving, why not stay a couple of extra days so I can see the son of one of my biggest heroes? What can it hurt?
I'm glad I did.
Friendly Fire is all about the end of his relationship not only with a woman, but with his best friend who took said woman away from him. His friend died recently and Sean went through a lot of shit since his last album, 1998′s Into The Sun, and he needed to talk about it.
The opening acts, Kamila Thompson and Women And Children left a bit to be desired. Actually, Kamila was pretty good for what she was: typical coffee shop guitar/singer/songwriter. Nothing special, but not bad. Women And Children, on the other hand, were stereotypical early 20s angst/suicide rock. The kind of stuff that would make Robert Smith slit his wrists for having inspired. Fuck these guys. I wish we had left for a bit and come back an hour later.
Then Sean the stage with his band, which includes Yuka Honda of Cibo Matto on keyboards and…um…three other guys that I don't remember the names of. Sorry, guys. He was a very unassuming kid who seemed to not understand why we were all there. (Kid. Heh. We're the same age. It's really hard for me to think of him as being 31. To me he'll always be the twelve year old kid talking about his dad in Imagine. Of course, I'll always be twelve, too.)
He talked about how awesome Austin is and how he wonders why he doesn't live here. Then he said, "Ok, I'm gonna play some music for you."
He went into "Spectacle," a song about a shallow girl who he loves even though he knows he shouldn't. Then he proceeded to go through just about every song on the album, making them rock harder than the rather mellow versions on disc. "Falling Out Of Love" turned into a ten minute epic freakout with a bit at the end that was remeniscent of the piano bit at the end of "Layla." (The name of Sean's addition here is actually called "Piano Epic" and can be found on his myspace page. Check it out.)
The highlight of the show for my friend as actually his between song banter. Sean seems to have taken his dad's humility and increased it into a charming persona of indie rock levels. (John would often do interviews saying how he wrote this song called "Strawberry Feilds" as if the person interviewing him would have no clue what the song was because it was so obscure.) He told us that "Parachute," is a song about how "falling in love with girls is like suicide," He reinacted what he's like when he's high. He told us why he missed his SXSW date, starting with, "I don't know if you were disappointed, but…" (Apparently, he had just gotten finished with a five week leg of a tour and was exhausted. He could either miss the date at SXSW or miss a few weeks of his tour. Ok. I guess I forgive him.)
After closing the show with his cover of T. Rex's "Would I Be The One?," he came back out alone saying, "I'm going to be out here alone. This was always my dad's favorite part of the show where it would just be the guy and his guitar." He then did a great version of "Tomorrow," his 40′s style paean for trying to fall out of love with a woman.
Then he brought his band back out and did one more song that I didn't recognize. Perhaps something from Into The Fire, which I haven't listened to nearly as much as Friendly Fire. But it rocked pretty hard and sounded a bit like something that John might have done towards the end of his career.
Sean is a great performer and has a pretty amazing raport with the crowd. If he ever comes to Austin again, you can bet that I'll be there for him.
And, yes. I know the picture is pretty terrible. But my camera doesn't do well in the dark far away. Shag off.